At Aqua Solutions and palmbeach Aqua Solutions and palmbeachaqua.com we don't just show up for a sale. We have been improving south Florida water for nearly 50 years, and we know that friendly, reliable services wins you customers for life. Aqua Solutions is committed to taking care of your home or business water treatment system for long-term enjoyment and confidence in your tap water. Here are a few of the services we offer:
WATER TESTING AND INSPECTIONS
Proper water filtration and purification begins with a proper analysis of the contaminants in your water supply. Our technicians are certified by the Water Quality Association and are trained to properly collect samples and investigate water problems. If you are house-hunting we offer inspection and water testing services. Bacteria, lead, nitrates, salts, radium, and other pollutants can render water unfit for human consumption. Test the water before you buy! We work with homeowners, contractors, and real estate professionals to insure that water meets established quality standards. After buying it's a good idea to check the safety of your water annually because groundwater conditions can change. Let us help you maintain 100% confidence in your family's water.
SALT AND CHEMICAL DELIVERY
Whether your system treats city or well water, periodic refilling of salt, chlorine, potassium, or other chemicals is required. Quit breaking your back lugging heavy bags of salt from your car trunk! Aqua Solutions will supply everything needed to keep your equipment in top operating condition on our low-cost automatic delivery route. We perform a complimentary inspection with every visit to insure that timers, O-rings, seals, and valves are working properly. We set it and YOU forget it!
ANNUAL MAINTENANCE AND FILTER CHANGES
Under-sink water purifiers and whole-house water treatment systems require annual tune-ups to maximize performance and reliability. Even on city water, occasional charcoal or softener mineral replacement is needed. Let Aqua Solutions take the guesswork out of annual maintenance. We clean, sanitize and replace the filter cartridges in your under-sink reverse osmosis system to maintain clean, healthy, great tasting water for the entire office or family to enjoy. We will retest your whole-house system each year and re-bed mineral only as required.
REPAIR AND EMERGENCY SERVICE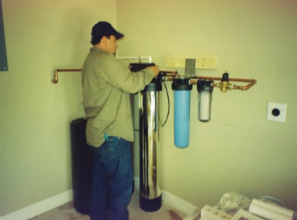 Whether we installed your system or not, we can fix it if it's broken. We have nearly 50 years of satisfied sales and service clients, so rest assured that our technicians have seen and repaired virtually every brand of equipment. If you have NO WATER call our emergency hotline at 888-401-5400 for quick response. We will get back with you promptly. Our trucks are fully stocked with most repair parts to quickly address any problem you may be having, and we back our certified repairs with a parts and labor warranty. Many of our best customers were originally orphaned or abandoned by their previous unreliable or fly-by-night water company. We have been continuously servicing clients for nearly half a century, so we are here to stay!